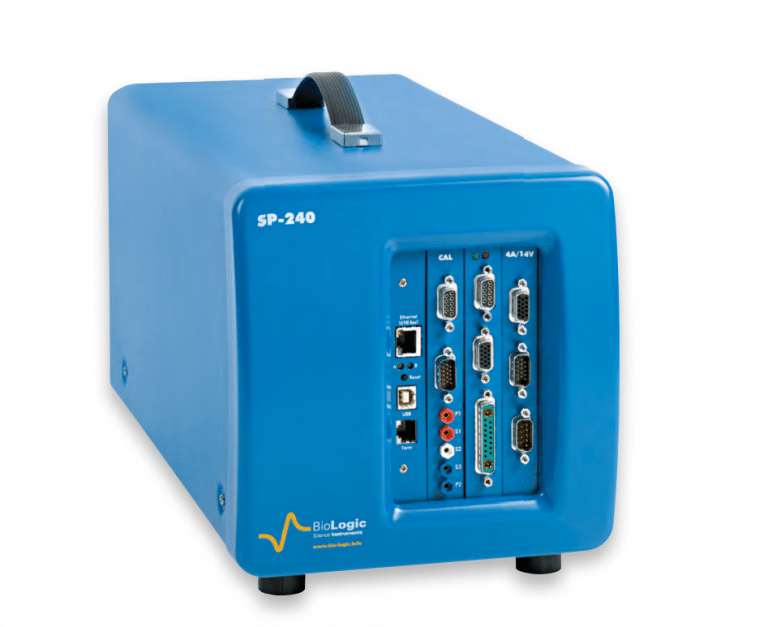 Compact and powerful, portable chassis*
Biologic SP240 Single Channel Electrochemical Workstation
Single channel electrochemical workstation
This constant potential meter offers a current range of up to 4 amps with excellent features such as floating mode, analog filtering, a built-in calibration board, and 9 stabilization bandwidths for improved battery control.
In addition, the SP-240 can be purchased with a standard DC constant potential meter or with an EIS capable battery. If necessary (for cell impedances above 100 MOhm), the Ultra Low Current (ULC) option may be required.
The compact nature of the SP-240 combined with its floating capability makes the SP-240 the perfect constant potential instrument for in-situ corrosion experiments.
Parameters
Voltage
Slot voltage: ±12 V ;±49 V with 1A/48V booster
Control voltage: ± 10 V; ± 48 V with 1A/48 V booster
Voltage resolution: 1 μV in the 60 mV range
Current
Current range: 4A to 10 nA (with 4A booster); down to 1 pA (ultra-low current)
Maximum current: ±4 A (with 4 A booster); up to 120 A with 4 HCV-3048
Current resolution: 760 fA (standard); down to 76 aA (ultra-low current)
EIS
Frequency range: 7 MHz (3%, 3°) down to 10 μHz; 3 MHz (1%, 1°)
EIS Quality Indicators
Options
Connecting 2, 3, 4, 5 terminal leads
Optimal acquisition time 12 μs (EC-Lab Express); 1 μs (ARG)
Floating mode
Analog filtering
Calibration plate
Full stability control mode (9 bandwidth)