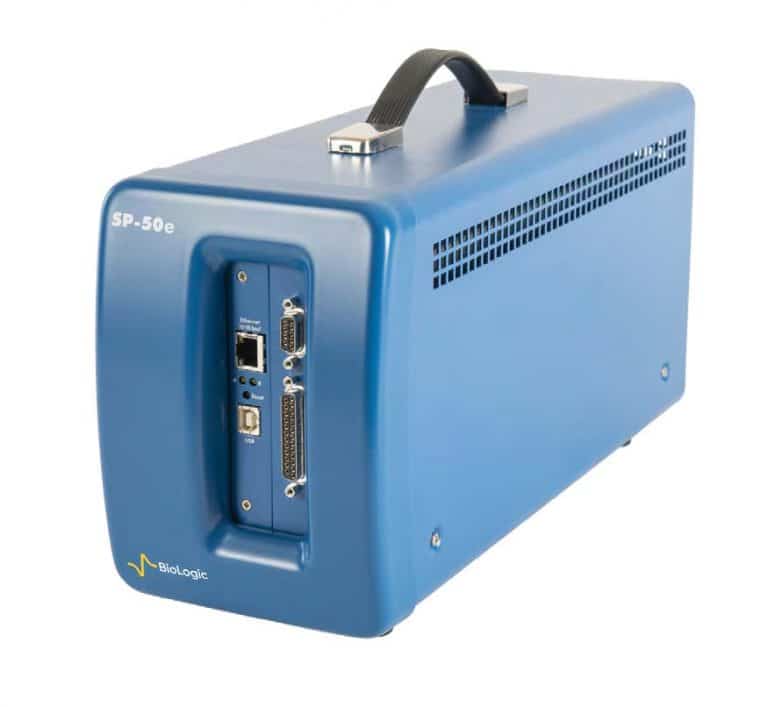 Cost-effective constant potential meter with advanced features*
SP-50e Single Channel Electrochemical Workstation
Single Channel Electrochemical Workstation
The Biologic SP-50e is an economical, single-channel general-purpose electrochemical workstation ideal for general electrochemical research and educational needs, and is well suited for teaching electrochemistry to undergraduate students.
will bring the following advantages to your research.
Small footprint and light weight (3.9 kg)

High quality hardware and software platform to operate the instrument without programming


The ±1 amp range makes the SP-50e well suited for energy-based applications, including batteries, supercapacitors, fuel cells, and electrolysis research.
Overview
Voltage
Slot voltage: ±10 V 
Control voltage: ± 10 V .
Voltage resolution: 5 μV in the 200 mV range
Current
Current range: 1 A to 10 μA
Maximum current: ±1 A
Current resolution: 0.760 nA
EIS
Frequency range: 1 MHz to 10 µHz
Optional
Connecting 2, 3, 4, 5 terminal leads
Optimal acquisition time: 20 microseconds in OEM package
Stability control mode (7 bandwidth)