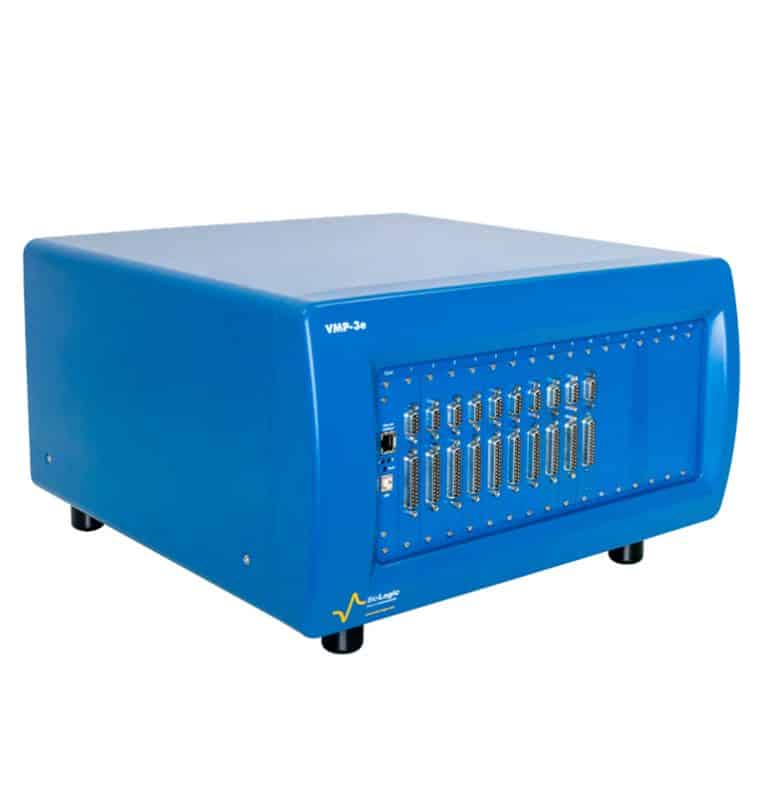 Highly durable, high-performance, high-precision multi-channel potentiostat*
VMP-3e 16-channel electrochemical workstation
RESEARCH-GRADE MULTICHANNEL POTENTIOSTAT
The modular design of the new VMP-3e makes it ideal for a wide range of applications.It is a true benchmark electrochemical workstation.Multichannel Potentiostat/Constant Current Meter with BioLogic's EC-Lab ® The combination of instrument control and the power of data analysis software will help take your research to the next level.
will bring the following advantages to your research.
With TCP/IP Ethernet common mode, remote control and multi-tasking operation can be realized by LAN
Built-in calibration technology allows you to calibrate the instrument at any time
The mold fast design is convenient for function expansion and maintenance.
Overview
Voltage
Tank voltage: ±10 V (adjustable between ±20 V)
Control voltage: ±10 V (adjustable between ±20 V); up to 60 V with FlexP0060/FlexP0160
Voltage resolution: 5 μV in the 200 mV range
Current
Current range: 1 A to 10 μA, standard specification 400 mA
Maximum current: ±1 A ; up to 800 A when using four FlexP0012s
Current resolution: 0.760 nA
EIS
Frequency range: 1 MHz to 10 µHz
Optional
Up to 16 channels
Connecting 2, 3, 4, 5 terminal leads
Optimal acquisition time: 200 μs
Stability control mode (7 bandwidth)