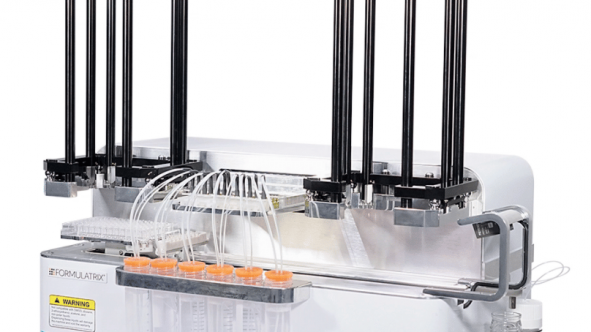 Formulatrix USA Breaks Throughput Limits*
Tempest High Throughput Dispensers
TEMPEST Liquid Handler®
TEMPEST® is a non-contact multi-purpose dispenser. By utilizing 96 independently controlled outputs, it allows you to dispense up to 12 different reagents simultaneously. Dispense any volume, any reagent into any well.

Precision - Non-contact microseptum technology uses positive displacement to ensure high precision control over a variety of reagent types including cells and magnetic beads.
Low dead volume - non-recoverable dead volume down to 48 μL per chip
Flexible - TEMPEST supports all SBS board types for easy integration with other robotic automation, and features optional board stackers and barcode readers.
Fast - 200 nL to 96-well plates in as little as 3 seconds and 1 μL to 384-well plates in as little as 5 seconds
Overview
Specification
Resources
Overview
[System Introduction]
The TEMPEST® is a high-throughput, non-contact automated dispensing device with 96 independently controlled nozzles that can dispense any volume of up to 12 reagents into any well.
1、Product features
Modularity

High-throughput dispensing module can be connected to 12 different liquid chips at the same time, each chip dispensing by 8 nozzles together to complete (96 channels can be used at the same time, or can be split into 12 8-channel flexible use)

Efficient

The dead volume of the pipeline is only 40uL, and the dead volume using pipette tips is only 100uL

Fast

Add 200nL of liquid to a 96-well plate in 3 seconds and 1uL of liquid to a 384-well plate in 5 seconds

Flexible and versatile

TEMPEST can be matched to SBS plates with optional well stacking and sweep modules, and can be easily integrated with other automation workstations

Reliable

Non-contact micro septum technology with positive pressure drainage method maintains excellent dispensing accuracy and precision after millions of dispensing cycles
[Technical Advantages]
TEMPEST's core technology, the microfluidic chip, incorporates a set of microvalves to dispense a range of different volumes of liquid (0.2uL to mL) through positive pressure in conjunction with a microseptum. This set of microvalves contains two sets of volumes of septa, 200nL and 1uL, or 1uL and 5uL, with a compression frequency of up to 8 times per second. This patented technology enables precise dispensing of liquids of different viscosities.
Fast and high-throughput dispensing tasks -Most dispensing tasks can be completed in less than 40 seconds
384-well plates take only 5 seconds to add 1uL of liquid
384-well plates take 9 seconds to add 10uL of liquid 96-well plates take 3 seconds to add 200nL of liquid
384-well plates take only 13 seconds to add 20uL of liquid 96-well plates take only 4 seconds to add 5uL of liquid
384-well plates can be filled with 200nL of liquid in 6 seconds 1536-well plates can be filled with 200nL of liquid in 11 seconds
Specification
Resources