Material Analysis - Japan
July 14, 2021 - This system provides the highest accuracy internal resistance measurement environment for solid-state electrolyte activation energy calculations to date. A must for many of Japan's top solid-state electrolyte materials research institutions...
Material Analysis - France
Feb 12, 2022 - Biologic's modular design allows users to follow their needs with options ranging from single-channel to multi-channel, high-current boosters up to 800 A, extended voltage ranges up to 60 V, low-current options (down to aA), multi-user systems, and more, for maximum cost effectiveness...
Material Analysis - Japan
July 14, 2021 - Evaluation system for various ferroelectric, pyroelectric and dielectric materials. New VG architecture and QV/IV dual sensor design enable accurate detection of small charge changes in thin film or nanoparticle materials, etc...
All Products - Material Analysis
All Instruments - Sample Preparation
Sample Preparation - USA
Feb 12, 2021 - MANTIS® (Green Mantle) Automated Liquid Handling Workstation efficiently and reproducibly dispenses any reagent, regardless of volume, viscosity, temperature, concentration and research experience ......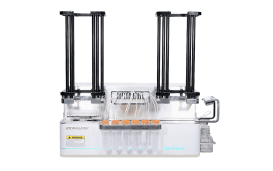 Sample Preparation - USA
July 14, 2021 - TEMPEST® is a non-contact, multi-purpose dispenser. By utilizing 96 independently controlled outputs, it allows you to dispense up to 12 different reagents simultaneously. Dispense any volume, any reagent into any well...
Sample Preparation - USA
June 06, 2021 - LabRAM I is designed for batch mixing of developmental and repetitive mixtures.With a 1.1 lb (500 g) payload capacity and acceleration of up to 100 g, LabRAM I brings significant power gains to benchtop mixing...